For your reading comfort, versus your cell phone, consider a larger screen, like a laptop or desktop.
For Chiropractors who take professionalism seriously…
Finally, a revolutionary way to grow your practice, without advertising, all built on Trust.
…So That Demand Exceeds Supply!
Doctor,
I think I know you.
You are competent, you help patients, and you've been at it a long time.
You have a good heart, you mean well, and you try your best.
You've done it all. You've seen it all.
You're relatively content with practice and life… but deep down inside, you know that you could be and should be doing more, but not at the expense of more stress, brain damage, or complexity.
Who wouldn't want more time off, more adventures, more money in savings and investments, and less debt?
Maybe your practice has become much too complex—too much staff, too many moving parts, too many headaches.
Have you ever felt as though you are only in business to employ people… to financially support them regardless of how the practice is doing?
Or to cut costs, maybe you've been forced to run your practice all by yourself…without any staff. Answering the phones, scheduling patients, doing the billing, etc. Chief, cook, and bottle washer.
Listen, you went to school to acquire the skills necessary to help people.
After a few years in practice, you've realized how completely lost, confused, and misinformed most patients are about their health and wellness.
It seems like they'd rather do nothing than commit to anything.
They expect a quick fix.
They are easily distracted.
Even if they make a decision to go with you, they'll second guess it soon enough.
And it's not their fault. Actually, we are not that much different.
If the practice is down, we want a quick fix. We aren't willing to make a long-term commitment because in the past, every time we did, we were taken advantage of.
You've probably have been to a seminar or two…or maybe a lot more.
Many are good. Some are worthless.
Same with consultants…
They sell you the shovels and then you're the one who has to go back to the office to do all the shoveling and as you know…
Just like real shoveling, the deeper you go, the more impossible it becomes!
That's why most strategies, advice, tactics, scripts, procedures, techniques, equipment, and products to sell don't last long and don't translate into long-term reliable patient procurement, retention, or referrals.
So Why Don't MOST Patients Come Back and Refer Others to You… Year In and Year Out?
Here's why…
You actually care too much.
You want your patients to know what you know.
You have been willing and able to educate them on how to live a healthier life.
…and you are not alone.
As a profession, we have been living in the "should be" world and not the "real world"…. Because your patients ALREADY KNOW that they could be healthier, should be doing more, and want to feel better. Yet, most of them don't do and won't do what it takes.
Most aren't willing to stick to an exercise/rehab program.
Most won't change their diet and nutrition.
What do they want?…
To get out of pain and out of your office as quickly as possible…for the least amount of time, hassle, and expense.
That's the harsh reality.
We are in business to give people what they want…not what we want them to buy.
If Chiropractors all lived to be 120 years of age, then people would listen to what we say.
But we don't.
We just die just like everybody else.
I've been to many funerals of D.C.s who didn't make it to 70. Too many.
In addition…
Prevention is "THE HARDEST SELL".
Nothing is harder.
Just ask the insurance industry, home alarm companies, and marriage counselors. They all know that customers buy after there is a problem, a pain of some kind… and rarely before.
Even Chiropractors wait 'til there is a problem, a symptom, or a crisis before taking any action—certainly before buying anything.
It's because humans are predictable creatures.
You and I are no different.
So Why, As A Profession, Are We Still Trying To Push What People Aren't Willing To Buy?
It's not that we are wrong.
It's not that there is no validity or benefit in corrective or wellness care.
It's simply because there is no market for it.
Want to open a restaurant?
Sell pizza, not raw food.
Want to maximally monetize your passion for automobiles?
Open a collision center, not an auto detail shop.
Want to sell prevention, wellness, or true healthcare?
Become a national company targeting consumers who are already healthy.
It takes marketing to millions to make it work.
See, the majority of people who buy into prevention and performance are IN the health, wellness, personal development, and professional sales industry themselves.
Just go to any self-help event…
Tony Robbins
Joe Dispenza
Deepak Chopra
They're jam-packed with Chiropractors, massage therapists, real estate agents, yoga instructors, entrepreneurs…and NOT the general population.
Certainly not the typical Chiropractic patient.
Here's the harsh truth….
"Health, Wellness, Fitness, & Personal Development Fanatics Make HORRIBLE Chiropractic Patients!"
They do more for their own health than most Chiropractors, and they make bad patients because there are not enough of them living in your town to build a practice around.
Nothing is more disappointing than getting a patient better than most, faster than most, receiving patient thanks and gratitude, and then never seeing that patient ever again.
Or that pleasant patient who disappears from care.
Or that new patient who eats up your time, seems agreeable and motivated, then decides to "go home and think about it."
Heck most Chiropractic offices even lose the vast majority of their happy and satisfied patients.
Guess what? You are not alone…
The frustration comes when you KNOW THAT YOU KNOW what works and why patients should be under your care and yet they make you feel like a car salesperson…arms folded, poker face, rarely expressing back to you what they are really thinking.
A Lot of Patients Receiving Little Care
ALWAYS Grows a Practice Better, Faster, and Easier…
Than Fewer Patients Receiving a Lot Will Ever Do.
Once I accepted the real world and NOT the "should be" world AND applied a few ways to maintain the relationship and attention of each patient AFTER they've been released from care…DEMAND EXCEEDED SUPPLY.
So What Keeps You Doing What You Do & How You Do It???…
Even Though It's Made Things More Difficult For You?
My guess is…
It's those patients who do get you, appreciate you, and refer others to you. There just isn't enough of them to meet our visits and/or collections goals and…you're proud of what you built…and you should be. It's your baby. But it seems like no one sees what you see.
So if you are like most of the D.C.s that I come into contact with, you want something just a little different, something more, something simpler, scalable, sustainable. Nothing crazy.
You might not be burned out, but you sometimes get tired of the grind.
The inevitable complexities that come with operating a seasoned practice.
Hundreds, maybe even thousands of patients have been through your office.
Many come back year after year, and even refer others.
But why aren't you making enough money by now?
It's very simple.
It is because…
MOST Of The Patients You've Seen Through The Years, Are NOT Coming Back Or Referring Others.
So What IS The Solution?
To understand what the solution is, let's first look at what the solution is not…
More Services – Adding more to do and sell. This only makes things worse. You become less efficient. Your practice becomes more complex. Marketing expenses skyrocket. Get good at offering just one thing that people already want is much so much easier, effective, and profitable than selling people what they don't.
"Cash Practice" – Requiring patients to pay 100% out of pocket decreases demand, kills referrals. We are in the business of making other people's lives easier…not the other way around.
"Niches" – 15-20 years ago there were "riches in niches". Not anymore. Procurement costs are too high, state board and regulatory agency are pushing back, information via the Internet has become increasingly easier, faster, and free to access…making it practically impossible to compel people to take action and to pay for it.
You Must Build Trust and Give Patients What They ALREADY Want…
To get out of pain
To get out of pain with the least amount of expense
To get out of pain with the least amount of effort
Now you might be thinking…
"That's not Chiropractic."
"That's not why I got into Chiropractic."
OR EVEN…
"I can't make money JUST relieving symptoms."
I used to think the same thing until I realized and accepted the fact that…
Most patients come into the practice with a symptom.
Most patients leave when the symptom goes away.
Most patients don't stay and refer.
Even if they say "yes" to a long-term corrective care plan, most feel remorseful during the care plan. Can't wait for it to end.
The days of "free exams" (sales pitches),
multi-day "report of findings" (sales pitches), "spinal care classes" (sale pitches), "patient appreciate days" (sales pitches)…are over.
The lack of trust in our industry is on the rise. Consumers becoming confused to what Chiropractic care is even for….and the latest trends are making things worse….
Social Media and YouTube videos of Chiros adjusting young females in compromising positions, with doctored "cracking" sounds edited in…
Chiropractors positioning themselves as functional and integrative medicine docs…and going out of their way to hide any indication that they even practice Chiropractic…
Discounted rates, 7-day-a-week offices…D.C.s reduced to technicians, Chiropractic commoditized like gas stations.
…and that's why I created ChiroTrust…to solve this problem. To help D.C.s get their life back, to simplify without devaluating, to do well without working, wondering, or worrying so much.
ChiroTrust is The Solution….With Just Minor Tweaks, Life Easier. Practice way better …Your Patients Returning and Referring.
Don't believe me? That's okay. You don't have to. ChiroTrust will still work for you. But I understand. You don't know me. Why should you believe me. Why should you trust me?
Here's why…
ChiroTrust was built EXACTLY how ChiroTrust builds practices for Chiropractors.
Unlike most experts, we are congruent. We do all this for ourselves too!
But here's what we don't do…
We don't "close" doctors on long-term contracts and then teach them short-term care.
We don't pressure doctors into joining and then tell them to stop pressuring patients.
We don't oversell and then tell you to undersell.
For example…
We send tens of thousands of Chiropractors an email every day.…not to sell them (or you) anything…but to provide some value, context, and to slowly build their trust…in ChiroTrust, in its results, and in me and my team.
…and with the help of Dr. Dan Murphy and Dr. Steven Yoemans, we do the same for each ChiroTrust member online, offline, and all the time.
Virtually every member of ChiroTrust joined because they were convinced that they could trust me.
No pressure.
No long-term commitment.
No need to do anything uncomfortable.
Patients want the same thing from you: someone they can trust, no pressure, no long-term commitment, no discomfort.
ChiroTrust attracts patients to its members from all over the country, every day, creating and maintaining trust.
We also market and drive consumers to Chiro-Trust.org to create the fertile ground and social proof necessary for each and every member's success.
ChiroTrust Creates and Maintains Trust, Attention,
and Patient Loyalty For You.
Trust is the name of the game and with all the online distraction, it has become harder and harder for non-ChiroTrust doctors to procure patients.
There is only ONE-WAY to build your practice, and, in a moment, I will reveal it to you.
This ONE-WAY sounds too good to be true but I will prove it to you.
It's simple, It's easy.
You will never look at practice building the same.
You will also wonder why you didn't think of this on your own.
It's that simple.
The MAJORITY of your new patients will return and refer others to you once you build and maintain their TRUST… Here's How..
FIRST, START WITH GIVING YOUR CURRENT PATIENTS ONLY WHAT THEY WANT.
Try this once…
Take one new patient.
Get them out of pain as quickly as possible, ideally in one visit.
6-8 visits max.
Then let them go.
Do NOT mention coming back!
If appropriate say something like… "I think we're good. If you ever need us, just come on in." Then smile.
IF they got what they wanted, if you built rapport, and if you know what to while they are under care and long after you release them, then odds are, they will come back and will refer over and over again.
AND HERE'S THE BEST PART…
They could easily be worth (Lifetime Value) far more than the average P.I. patient or any other type of high case fee patient.
This, my friend, is the most professional, simple, and elegant solution to your high overhead and high stress practice.
BUT WAIT IT GETS BETTER…
You don't have to work Fridays and/or Saturdays anymore. Ever.
Even if your current busiest day is Friday, soon can be seeing more patients each week and in a more efficient and pleasurable way….Working only Monday thru Thursday.
So What Else Needs To Happen
Before, During, and Far After Their Care?
Before, during, and after care, you must have in place specific systems that include the following Trust builders…
Relevance
In the marketplace, if you aren't relevant, you don't matter.
You must acknowledge the conversation going on in the heads of a typical Chiropractic patient.
You must provide them with value before, during, and after care.
You must virtually be with them always…Using technology.
Reputation
No reputation is just as damaging as a bad one.
You must be credentialed by others bigger and more reputable than yourself.
You must be consistently known for just one thing.
You must have systems in place that keeps your reputation alive.
Relationship
They are human, not just a patient.
You must keep their attention, ideally forever.
You must give more than you take.
You must accept them as they are and maintain the relationship.
So What is The Best Way to Build Your Practice?
From within.
If you build from within, you will never be without.
Your most valuable asset is or SHOULD BE your CURRENT patient list.
…every patient who has been in your office in the last 12 months or less.
Why in the last 12 months?
Because through the years, you haven't nurtured the relationship of your entire list of patients. There is no relationship. So you can only go back 12 months. But that's okay, your previous 12 months is plenty to start with.
You will still get results practically immediately.
…and don't forget, each month, every new patient will be added to that list.
With ChiroTrust, as your list grows, so does your practice.
YOUR LIST is all that you need to grow your practice…EVER.
So here you are, reading this and hopefully curious as to what ChiroTrust is, does, how it's different, and how it can benefit your practice in ways you can never imagine.
So let's get started…
Maybe you've been to Chiro-Trust.org, or have had a patient call your office asking if you are a member of ChiroTrust.
Or have heard Dr. Dan Murphy or a peer rave about what we do.
So Here's The "BIG PICTURE"…
How ChiroTrust Works:
You sign up.
You upload your patient email list going back 12 months into the ChiroTrust system. We are HIPAA compliant so don't worry. We send millions of patient emails out each month for our members.
These emails are written by Dr. Steven Yeomans.
Each email links to an "Online Information Center" (O.I.C.). Your very own version.
It looks like Chiro-Trust.org but it has your information on it the URL address even has your name on it.
Each email has "Daily Health Updates" that have quality and valuable information in small bites. About 5 paragraphs.
Here's an example…

Each email also has an article of the day that is promoted on that email but they have to click the link to go to your O.I.C. to read it and all the other articles consisting of over 2,000 pages of content.
This is NOT a typical website. It features you, we manage it, we add 6 articles to it every month. It truly is an Online Information Center.
On your O.I.C., if you want, we can link to your existing website if you have one.
Or if you choose, you can use your O.I.C. as your primary website like most of our members do. That's up to you and you don't have to decide this right away.
Why do we ONLY email to anyone who has been in your office in the last 12 months?
Because it has been found by the DMA (Direct Marketing Association) that anyone who hasn't been communicated to in the last 12 months is as responsive as a stranger.
This means that ignoring your patient list right now is not only losing you revenue, it's diminishing the value of your list…making it less responsive and less likely they, your past patients, will EVER come back and refer others.
SO LET'S DO THE MATH SO YOU CAN APPRECIATE HOW POWERFUL AND PROFITABLE CHIROTRUST WILL BE FOR YOUR PRACTICE…
Follow with me. This is important…
Let's say that you currently average 20 new patients per month.
That's 240 patients with email addresses in the last 12 months. (For this example)
…and let's say that 60 patients from beyond the first 12 months came back in during the last 12 months even if it was for only one visit.
Now you have 300 patient emails to upload.
Every day (Monday-Friday) each of these 300 patients will receive one email.
That's 20 emails per month per patient… approximately.
So how many emails will that be per month total?
x 20 = 6,000!!!
This gives you 6,000 opportunities each month to maintain the attention of your most valuable asset: your patient list. Your relationships.
…and here's where it really gets good: every new patient from this point on gets added to your list!
So let's say in ONE YEAR FROM NOW you have added 500 more emails to your list.
NOW YOUR LIST IS 800 STRONG…
300 from the day you started with ChiroTrust (Going back a year)
500 added throughout your first year with ChiroTrust.
NOW 16,000 emails are going out EVERY MONTH!
About these daily emails or "Daily Health Updates"…
As you saw above, they are of the highest quality.
Nobody can duplicate the quality or the effectiveness…not even you. 🙂
Over 40 pages of NEW CONTENT is written for you each month.
Not by me, but by Dr. Dan Murphy and Dr. Steve Yeoamans and his small team of high-quality D.C.s he supervises.
TAKE A MOMENT AND THINK ABOUT THIS…
You are reading this.
Prior to reading this, you have been receiving daily emails from ME!
Virtually everything that I have done to build ChiroTrust, WILL BE DONE for you to build YOUR practice.
Nothing fancy. Just good.
Your marketing will be professional. Not gimmicky. Not desperate. Just good.
The magic.
The money.
IT'S ALL IN THE MATH.
What do I mean?
Quite simply….AS YOUR LIST GROWS, YOUR PRACTICE GROWS.
Your practice CAN'T GROW unless your list grows. Here's why…
The most responsive people on your list will be those who experience what we do for you beginning on their first day with you.
So even if you are starting a practice from scratch and don't have a list, with ChiroTrust, you will see results.
See, the first 20 emails that your NEW PATIENTS get are written in a particular way, for a particular reason…to address their very own (or those who influence them like a spouse, a friend, co-worker, google search, etc.) fears, concerns, skepticism, preconceived ideas, etc. about Chiropractic.
After the first 20, they will be receiving the same emails as everyone else.
But that's not all…
You will be taking The ChiroTrust Pledge…
"To the best of my ability,
I agree to provide my patients
convenient, affordable, and
mainstream Chiropractic care.
I will not use unnecessary
long-term treatment plans
and/or therapies."
Read it again.
Notice it says "unnecessary".
That doesn't mean that some patients won't need longer term care, or a modality or two.
You are just agreeing to NOT do ANYTHING that is unnecessary.
This pledge is very unique to ChiroTrust and all that we do…that's why it is so effective for the those who take it.
It is also on your "O.I.C."
Everything we do is designed to be about the consumer. The patient. NOT really about you, ChiroTrust, or Chiropractic.
See, when you only do and say what your patients only want, they come back and refer like mad. You'll see. It happens quickly.
Also, you will receive a referral nurturing DOMETAG. To affix to your front window or ideally, on your front door. It looks like this….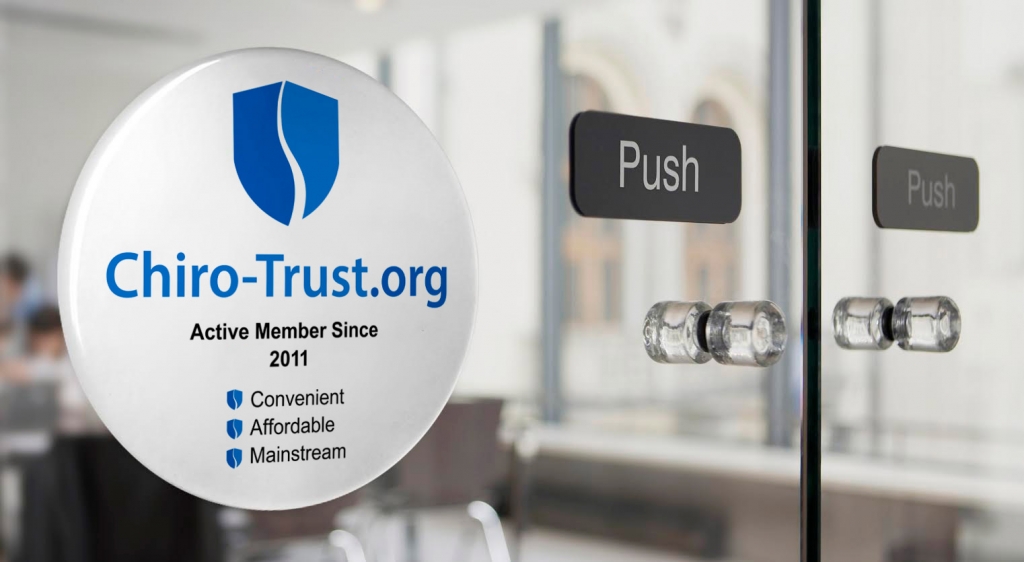 This DomeTag credentializes you and gives your patients confidence and bragging rights that their Chiropractor is a member of Chiro-Trust.org or "ChiroTrust". Yes, to be a member of ChiroTrust is a thing!
We also give you a business card template that might not be as pretty as yours, but it is way more effective in making it easy for your patients to refer others to you.
Here's an example…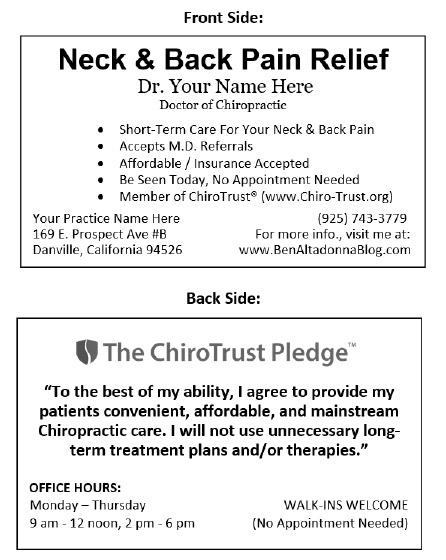 Do you have to use this business card? NO
Do you have to use it right away? NO
Will your practice do better if you do? YES
Is it as effective as the "Daily Health Update" emails that we will send to your list for you…and links to your O.I.C.?…NO. NOT EVEN CLOSE
As you will soon find out, just the ChiroTrust "Daily Health Update" emails that link to the O.I.C. will make the investment of $397 a month a homerun.
$397. You can stop at any time…but if you are like the vast majority of members, you won't want to. You will happily depend on us to do all of this work for you.
If you don't join, you "save" $397. This $397 will be taxed. So your actual take home from keeping that 397 is going to be approximately half.
So in actuality, ChiroTrust is dirt cheap to join.
You can't even get ONE quality employee for $397 per week.
ChiroTrust is only $397 per month!
YOUR VERY OWN "ONLINE INFORMATION CENTER" AND NEW CONTENT CREATED EVERY MONTH AND UPLOADED TO YOUR O.I.C. FOR YOU.
DAILY EMAILS THAT KEEP YOU AN INVITED GUEST…NOT AN ANNOYING PEST…WRITTEN AND SENT OUT FOR YOU. (THEY CAN "OPT OUT" AT ANYTIME. THE VAST MAJORITY WILL NEVER OPT OUT BY THE WAY.)
A DOMETAG.
"But wait…there's more!!!"
Let's say you or your staff has a question…
You can call ChiroTrust
You can email us
…and if the question is for me, it will get to me and I will RECORD my response then email to you right away.
NOW LET'S TALK JUST A LITTLE ABOUT "SOCIAL MEDIA"
Many members actually like to post on Facebook.
That is why we created the "A.P.S." which stands for…
The Article Posting Service
9 AM
12 NOON
3 PM
…3 times a day, 7 days a week, our members have access to the same 3 articles per day and are shown how to easily post each of these articles.
ChiroTrust members nationwide posting an article at 9 am, noon, 3 pm. (California time…if they live in New York, they do it at noon, 3pm, 6 pm.)
Sounds confusing but it's not.
Here's the magic…
Thousands of Facebook Users all across the country are reading and sharing the same article. The only difference is that when people see your posts and click it to read the article, they are directed to that article that is in YOUR "O.I.C.".
If they share that post, others are going to your "O.I.C." as well.
Now of course you can boost articles if you like. Most members do not, but if you are Facebook savvy, you will come up with many ways to target, retarget, custom audience market, etc…using one of the hundreds and hundreds of articles that exist in your Online Information Center.
I can go on and on what we do, why we do it, and what it will do for you.
But the real magic is in your list and our daily HIPAA-compliant emails.
Lastly,
Your patient list is perishable.
With ChiroTrust, its shelf life lasts forever.
As your list grows and is nurtured via ChiroTrust emails and the Online Information that we build and manage for you, your practice will grow.
How fast it grows will vary depending on patient satisfaction.
One thing I know for sure is this…
You are just a few weeks away from realizing how powerful ChiroTrust is… and wishing you joined sooner.
That's if you join today, that is.
Ben
P.S. – When you do join, we will mail you a small package. So keep an eye out for it. You will also receive links to 12 short videos that are about 5 minutes or less in length each to remind you of what we will be doing FOR you and what you will need to provide us initially so that we can do our best for you. You can't lose, you won't lose.
ADDITIONAL FOOD FOR THOUGHT…
Always needing to procure new patients from outside your practice (Facebook, YouTube, etc) is a symptom of a sick practice. Building from within is ALWAYS best.
Being the best "chiropractor" is not as valuable as you think. If you get patients better 20% faster, that's the difference of 4 visits vs 5. Patients have no way to gauge if you're good or not, just if they feel improvement after each visit. Plus, you do not have all the ChiroTrust systems in place to build and maintain trust. THE 3 R'S- RELEVANCE, REPUTATION, RELATIONSHIP.
Constantly jumping to the flavor of the month patient type or gimmick may get short-term gains but it doesn't produce good referring patients and possibly opens you up for liability and scrutiny from regulators and district attorneys. In addition, the increasing marketing expenses over time will kill you.
Many chiropractors change things out of boredom, not because they don't work. If you need to spice up your life, get a hobby. Don't fiddle with your business if you don't need to. You already have a list. Let's build from there.
Many D.C.s want a million-dollar practice but don't consider the cost in terms of time, money, and energy. More staff to manage, associates to manage, more marketing than you think, greater requirement to be a business owner, less hands-on time with patients. Also, it can strain relationships due to added time commitment. In the end, you might make more but it can cost you everything.
Referred in patients are the best – their demand for you is higher and they are most likely to also refer patients to you.
SIDE NOTE:
As of writing this…
On August 25, 2023, I'll be 62. I can't believe it. It's awesome actually. I feel great.
I graduated from Chiro school 33 years ago, I practiced for 8 years and have been a marketing addict / functional workaholic for the last 25.
…and thanks to my dedication to health, wellness, fitness, and regular lab work, I should be able to work 'til the very end.
Same business, same pace, same level of intensity.
And ChiroTrust is already set up to be around long after I'm gone.
Along the way, in all aspects of my life, I've had a lot of homeruns, base hits, and a few strikeouts. I wouldn't have changed a thing.
…and I've adopted an attitude and some habits that I'd like to share with you today:
By choice, it never gets easier. – By pushing myself and by keeping things challenging, I haven't experienced decline. Keeping the external the same, I believe, has helped me stay young. Those my age and younger who have retired, or who have made their life easier for themselves, have lost their edge. Their mind and body simply adapted to their new existence. What used to be a difficulty of "6" (out of 10) for them, has now become an "8".
My friends vary in age. – I mentor and manage young people, I pay attention to the perspectives and opinions of the new up and comers in the spaces that are of interest to me—primarily entrepreneurship, technology, and lifestyle hacking. This keeps me from trusting my opinions or becoming a stick in the mud.
I Supplement– If I had to guess, I ingest at least 30 supplements per day. I push my mind and body. I doubt I can get enough of the essential macros and micros with diet alone, especially because of the calories I burn and the calories I don't exceed. Also, I consume one gram of protein per pound of body weight. (6′ 1″, 186 pounds, 186 grams of protein.) My online mentors are Peter Attia, Rhonda Patrick, and Bryan Johnson. (THE BLUEPRINT).
Student for Life– I use my TV for YouTube only. I have no paid subscriptions, no NETFLIX, no TV channels. Just YouTube. I spend at least an hour each day on YouTube listening, note taking, and learning. I take this seriously and consider it a part of my job. To manage my notes, I use the Boox Air 2 By Onyx.
60-Minute Walk and Workout 7 days a week. – As a wannabe minimalist, I limit my use of equipment and gear. No gym membership. I walk 50% incline daily, and use my kettlebells, X3Bar, pull ups, push-ups, lunges, and I stretch. That's about it. I'm kind to my joints the entire time. I don't push too hard. I don't try to break "PRs". Oh, and I can't forget Pickleball.
An Attitude that Serves Me and Others. – To have control over my life, I take as much responsibility as possible for what "happens" to me. There is no such thing as success or failure. Just results. Just information. Just feedback. Nothing is good or bad. I just continue to move forward. I don't judge outcomes. I know that it might take years or even decades to accurately judge the value of what is occurring today. I try to maintain a Stoic attitude about all aspects of my life. For more on this, follow Ryan Holiday.
I Never Let People See Me Sweat– The average person would not want my life. It's hard. I intentionally keep it that way. I lick my wounds in private. Happiness, fun, and fairness are not what I strive for. I live for meaning, impact, and to be in alignment with my values. Some days are easier than others and I've trained myself to not be impacted, affected, or reactive no matter what. A big thanks to David Goggins.
I Remind Myself How Unimportant I am. – At the end of the day, it's all just a game to me. If I died tonight, it would take a few moments in time before I am forgotten by everyone but my few loved ones. Adopting this point of view makes it easier for me to live boldly, to take what others consider "risks", and be more process/experience driven than results driven.
Fast Decisions– I pride myself in how fast I can make a decision. From ordering food to buying real estate. I don't labor over decisions. Big or small, most of my decisions are made in 5 minutes or less. I rather make a lot of decisions and have many not turn out, than batting .1000 on a few. I have found that those who can't make a decision rarely live the life they want. Simply put, the more decisions that you can make quickly, the more successful you will become. (Honoring your word for your decisions is equally as important and valuable.)
I Control My Time and Value My Time– Nobody pulls my strings. I manage expectations so that everybody wins. Each day is pre-planned the day before. I would estimate that over 90% of all humans waste their time yet wonder why life is so hard. I have no respect for money. Money doesn't control me or my decisions. But I do respect time. With time, I can make money. The opposite is not true.

AND LASTLY…
In this society, money is overrated.
90% of the wealth that I have created came almost by accident. I will never need it, never spend it, or ever think about it. It's merely the byproduct of only doing what matters to me.
You need to decide what matters to you and what price you are willing to pay to create your own reality, your own experiences, and your own life.
Everything comes with a price.
The key is to be willing to be what it takes to get what you say that you want.
…and, if you put your health and your family first, you will regret not.
ChiroTrust creates happy patients, happy staff, happy doctors, and happy families…FAST.
Give ChiroTrust a try!
You will not be sorry.
Actually, you will be quite surprised what this ChiroTrust structure will do to your practice.
Best,
Ben Altadonna
ChiroTrust Founder
Headquartered in Downtown Danville, California
Question? Call us at 1-800-795-5221
ChiroTrust Is Headquartered In
DOWNTOWN DANVILLE, CALIFORNIA
169 East Prospect Avenue, 94526